No more calculating to determine the correct NMRA weight for rolling stock, just sit the car down on the HO Scale Rolling Stock Weight Rule and read what the correct weight should be.
You can click on any image to see a larger version of it in a new windows.
There are two slots for the wheel flanges to sit in. There are 1/8" holes on the rule for mounting to a bench.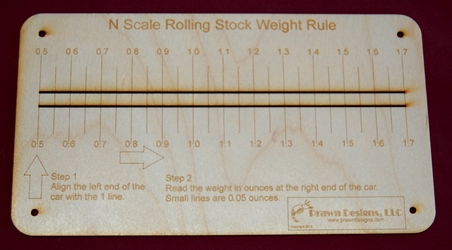 It is as easy as 1, 2, 3.
2 - Align the left end of the car with the "1" line.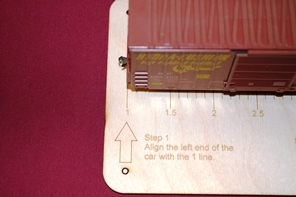 3 - Look at the other end of the car and read what the NMRA recommended weight.
The car in the picture below should weigh 3.9 ounces.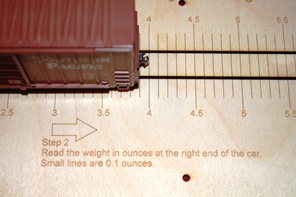 Part Number
Title and Description
Price
Image

PD-21001

PD-21017

PD-21018

Free-mo Fitter Rail Tool

The fitter rail gap measuring tool and fitter rail cutting guide. Used to help measure and cut in 1/16 inch increments.

I make the Fitter Rail Tool in with three different step sizes.

PD-21001 Free-mo Fitter Rail Tool 0.0625" (1/16") Steps
PD-21017 Free-mo Fitter Rail Tool .040" (~1.0mm) Steps
PD-21018 Free-mo Fitter Rail Tool 1.0mm (~ 0.040") Steps

$8.00

PD-21002

HO Scale Rolling Stock Weight Rule

No more calculating to determine the correct weight for rolling stock, just sit the car down on the HO Scale Rolling Stock Weight Rule and read what the correct weight should be.

$10.00

PD-21016

N Scale Rolling Stock Weight Rule

No more calculating to determine the correct weight for rolling stock, just sit the car down on the N Scale Rolling Stock Weight Rule and read what the correct weight should be.

$7.50

PD-21003

Optical Detector Mount for OPB704W

Easy mounting of an OPB704W optical detector. Easy mounting in a 1" round hole. There are different mounts that leave the detector sticking different distances out the top of the mount. The detector should extend the thickness of the ties. There are two mounting options included. Flush mount to the top of the road bed or with a 1.25" square of 1/8" thick birch plywood cut into the roadbed so that the top is flush with the top of the roadbed.

Flush, 0.00 inches
CVMW - Central Valley Model Works, 0.065"
ME - Micro Engineering, 0.084"
Peco - Peco, 0.080"

Other distances available upon request.

$2.00

PD-21032

Optical Detector Mount for Boulder Creek Engineering Night Scope

Easy mounting of an Boulder Creek Engineering Night Scope optical detector. Easy mounting in a 1" round hole. There are two mounting options included. Flush mount to the top of the road bed or with a 1.25" square of 1/8" thick birch plywood cut into the roadbed so that the top is flush with the top of the roadbed.

$2.00

PD-21033

Optical Detector Mount for Iowa Scaled Engineering

Easy mounting of an Iowa Scaled Engineering optical detector. Easy mounting in a 1" round hole. There are two mounting options included. Flush mount to the top of the road bed or with a 1.25" square of 1/8" thick birch plywood cut into the roadbed so that the top is flush with the top of the roadbed.

$2.00

PD-21034

Optical Detector Mount for Scale Signal Systems VCNL 4010

Easy mounting of an SSS VCNL 4010 optical detector. Easy mounting in a 1.25" round hole. There are two mounting options included. Flush mount to the top of the road bed or with a 1.25" square of 1/8" thick birch plywood cut into the roadbed so that the top is flush with the top of the roadbed.

$2.00

PD-21004

HO Double Track 2" Spacing Tool

This is a tools to help space your tracks exactly 2" on center. It is made from clear acrylic so that you can see the track as you are putting them down. There are two large holds to allow you to spike the inner rail. There is a line at the 1" set back point for Free-mo module ends.

$6.00

PD-21005

UP5 Face Plate, Baltic Birch Plywood, Blank

$1.50

PD-21006

UP5 Face Plate, Baltic Birch Plywood, Custom Engraved

1/8" acrylic available at $3.00 each.

$2.00

PD-21007

UP5 Router Template

Router Template to inset a UP5 Throttle Jack into the Fascia.

$10.00

PD-21008

UP5 Stencil

Once you have routered a space in the fascia for the Face Plate you need to cut a hole for the throttle jack to stick into. This stencil helps to define where that hole is. Drawn lines for the 4 sides and mark the location to drill for the holes for the four corners.

NOTE: This has been updated from a two piece stencil set to a single stencil. The new image is coming.

$4.00

PD-21009

UP5 Router Template & Stencil Set

A set the include both the UP5 Router Template and the UP5 Stencil, PD-21007 and PD-21008.

$12.00

PD-21010

NCE / Tony's Router Template

Router Template to inset a NCE / Tony's Throttle Jack into the Fascia.

$10.00

PD-21011

NCE / Tony's Stencil

Once you have routered a space in the fascia for the Face Plate you need to cut a hole for the throttle jack to stick into. This stencil helps to define where that hole is. Drawn lines for the 4 sides and mark the location to drill for the holes for the four corners.

$4.00

PD-21012

NCE / Tony's Router Template & Stencil Set

A set the include both the NCE / Tony's Router Template and the NCE / Tony's Stencil, PD-21010 and PD-21011.

$12.00

PD-21013

NCE / Tony's Face Plate, Baltic Birch Plywood, Blank

$1.50

PD-21014

NCE / Tony's Face Plate, Baltic Birch Plywood, Custom Engraved

$2.00

PD-21015

Track Height Tool

The Track Height Tool has two parts, a stick and a cart. The stick has graduations on it to help set the carts on multiple sticks to the same height off the track. The cart has a zero mark and graduation in 1/16 of an inch increments both positive and negative. Once the cart is zeroed you can directly read the laser and see if the module needs to move up or down and how far it needs to move.

$10.00

PD-21019

Lily Pad, Switch Machine Mount

Mounting board for a Tortoise Slow-Motion Switch Machine.

Tortoise Slow-Motion Switch Machine is a Trade Mark of Circuiton (http://www.circuitron.com)

$2.50

PD-21020

Lily Pad, Switch Machine Mount, Drilling Guide

Drilling guide for the PD-21019 Lily Pad, to get perfect alignment of the switch machine to the switch.

$3.00

PD-21027

Turnout Switch Control Board, (1 to 5)

Only need one or two, $1.25 per unit.
If you are buying 4 or more, save money and get 6 (PD-21028).

Micro switch NOT included.

$1.25 each



PD-21028

Turnout Switch Control Board, (6 to 11)

If you need 6 to 11 the price is $0.75 per unit.
If you are buying 9 or more, save money and get 12 (PD-21029) for the same price.

Micro switch NOT included.

$0.75 each



PD-21029

Turnout Switch Control Board, (12 or more)

Buying 12 or more they are only $0.50 each.

Micro switch NOT included.

$0.50 each



PD-21031

Free-mo Leg Pocket Set, one pair, kit.

Two Leg Pockets, enough for one end of a module. Bolt and leg not included.

$15.00 pair